Take a Break from Anxiety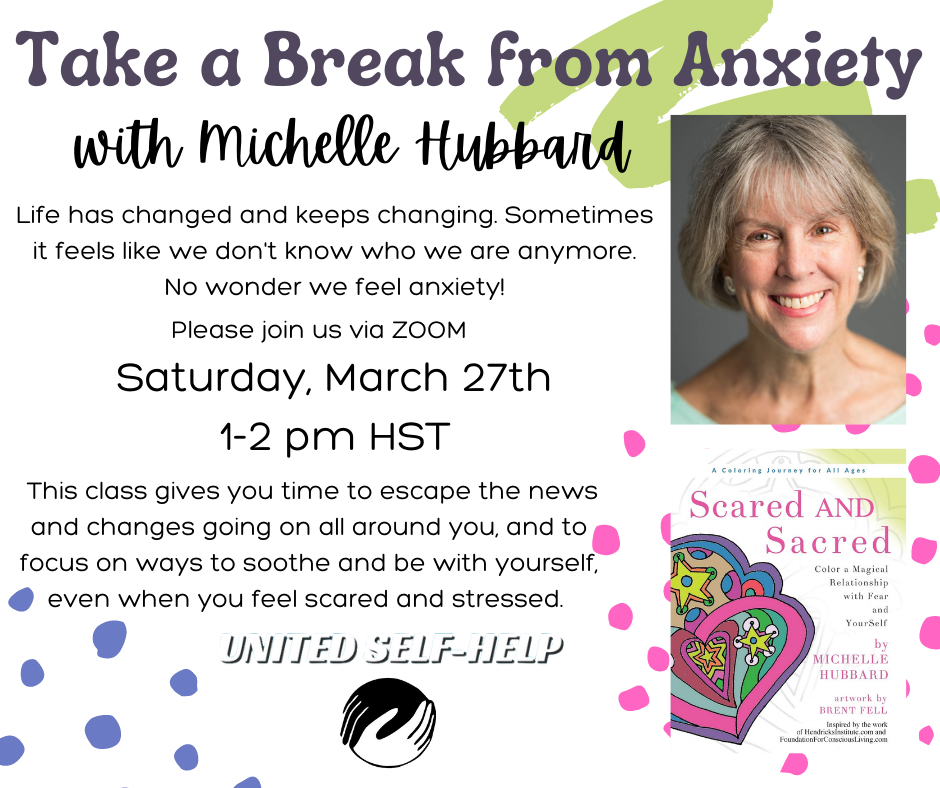 Feeling stressed? Join United Self-Help on Saturday, March 27th, 1-2 pm HST via Zoom as we Take a Break from Anxiety with Michelle Hubbard! This recharging session will include exercises in presence, acceptance, meditation, and breathing, to soothe our relationship with fear. Please RSVP with your email via our sign up sheet for Zoom meeting info and so we can send you a workbook to follow along with during the session. 
About Michelle: Michelle Hubbard is a law school graduate with a Juris Doctorate degree, a law school admissions consultant, certified Leadership and Transformation Specialist, public speaking consultant, ordained minister, and certified art therapy coach. She lived in Hawaii for 27 years and volunteered for United Self Help, and continues to work with USH since returning to California. Michelle's business is Scared AND Sacred, a safe space for showing up, even when you feel scared. Her book Scared AND Sacred is a coloring journey that unites tools for releasing the grip of fear with the meditative benefits of coloring. Michelle is an in-demand speaker, teacher and author who's passionate about helping people be brave enough to own All and what they truly are in each moment, because it's living as this Truth that's creating our new Leaders.
Comments are closed.